Grow a youtube channel fast!
YouTube creators are always trying to grow their channel fast, TubeBuddy is the one of most popular specially created tools for supporting millions of youtube creators to grow their traffic and enough audience for their brands. TubeBuddy helps content creators to focus more time on the creative side of their videos.  To know more about TubeBuddy, visit www.tubebuddy.com. It will help you Grow a youtube channel fast.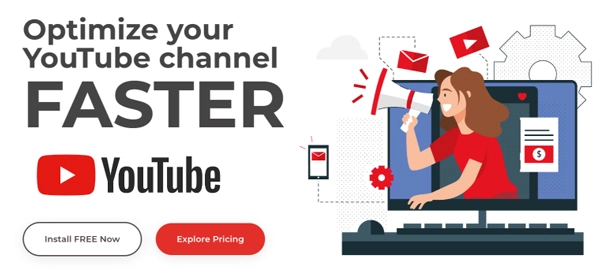 TubeBuddy provides an extension tool to manage your YouTube channel, it is compatible with the Google Chrome browser,  Firefox and Safari.  After installing the extension in your browser and you log in, it connects automatically to your YouTube dashboard. They show up in your search bar and become a part of your YouTube experience when you open the website through your browser,  for web platforms and mobile apps it is available for both. We will see how TubeBuddy can help a content creator to build a better growing channel.
There are some great features on the TubeBuddy free version, and the paid version has unlimited access to those features at reasonable prices. So, better to start with a free trial, You can upgrade the plan to premium if it really helps your channel, an upgrade will not be necessary. As a creator which works better for your channel free or premium, the upgrade is dependent on your needs and youtube views.
How to grow a youtube channel fast?
What are the
Tubebuddy Features?
Tubebuddy has most 5 Powerful features (grow a youtube channel fast)
Above listed 5 features contain more than 40 additional features available for creators to build a channel strong. 
1. Productivity
Tube Buddy provides an Advanced Video Embed feature with multiple options on to embed your videos. Embedding videos into your existing video is key to boost youtube views. 
A channel with a huge number of subscribers, responding to thousands of comments is very difficult most of the time. Tub Buddy Canned Responses Feature will respond to questions to keep your viewers happy, when you increase interaction with youtube viewers you are increasing the growth of your channel.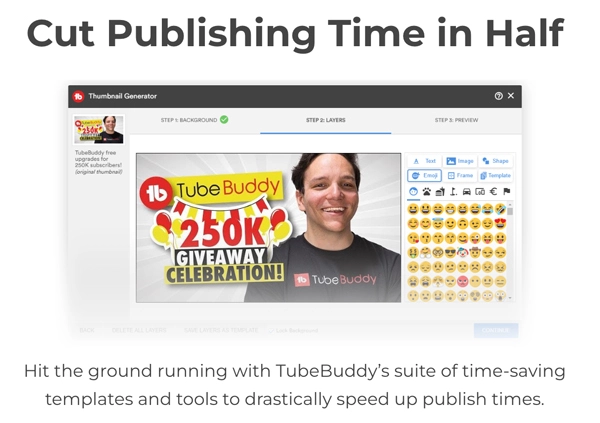 Tubebuddy Card Templates feature helps you to promote your brand, it will create links to playlists ,websites or brands that sponsored your video. Instead of creating a single video card TubeBuddy helps you to create Multiple video card templates types of videos.
Above two features serve as easy ways to remove certain comments against complaint YouTube community guidelines and Comment Spotlighting feature automated to appreciate a new subscriber or a Patreon.
The COPPA (Children's Online Privacy Protection Act ) Center is a feature that allows your videos to detect if they have been tagged made for kids.
To get a proper unique title to manage the attention of viewers and be attractive is another. Also you can add emojis to your title to make your title more attractive, you can save time to search the emojis.
TubeBuddy helps you find out what keywords are most popular on the YouTube users and also the most competitive keywords.
The Thumbnail Generator helps to make more attractive and proper thumbnails for your video.
2. Bulk Purchasing
Bulk Copy Cards feature helps quickly and easily update cards across your videos, you can add thousands of cards in a minute it will Increase your productivity. This method you can use also in the Bulk Copy End Screen. You might want to delete some cards or end screen, then you can use this feature
Youtubers are always think about refreshing attractive branding thumbnails for their videos. But if you have hundreds of videos in your channel it is very hard to change one by one. The Tubebuddy helps to update your all videos thumbnails or selected video thumbnails together. Just upload a png logo, frame or images once. If you make some series of videos in different categories it will help you a lot to make thumbnails fast.
The Mass Description editor is also a powerful tool to make multiple video description updates. If you want to add any hash tag or affiliate link to your multiple videos description, you can change and replace with new words, it is a very useful tool.
How to grow a youtube channel fast?
 3. Video SEO
The Auto-Translator Feature is another good tool for increasing your global viewership, it's making your videos translate in other languages with. You can focus on multiple countries.
AB thumbnail testing is a genius tool. This tool helps you to improve your uploaded thumbnails Clickthrough rate (CTR), you can make a second thumbnail for your video then compare for both which one is getting more CTR.
SEO Studio will increase the possibility of your video on the top in searches. 
There are many more features in Video SEO you can check tube buddy 
4. Promotion
Share Tracker helps utilize social media to monitor how good people share your content across social platforms. You can use this social monitor feature to check this.
Using Vid2Vid Promotion you can promote your old videos with new ones by directing users to old videos.
There are many more features in Promotion you can check tube buddy 
5. Data & Research
When you write a good title or description you must keep some powerful keywords between the words. How do you know these keywords? After you publish the youtube video you can check in your video editor then the keyword section tube buddy shows you how to perform your keywords.
Tubebuddy helps you to select a specific keyword direction. It is suggesting very relevant keywords to your video according to the title. You can just click the green plus button to add relevant keywords easily to your videos.
How to grow a youtube channel fast?
Explore more the excellent futures of Tubebuddy, it should take your channel grow to the next level.
Email Marketing shabishine.com